Services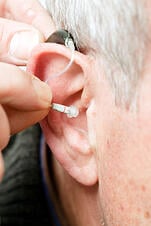 At Master Plan, we are committed to helping improve your hearing capacity. We are proud of our reputation for helping clients regain the quality of life that they deserve. You can be sure that as a client of Master Plan, you have the most qualified and experienced Board certified health professional to help you through the process of improving your hearing.

As a Board certified health professional, we have been accredited by the National Board for Certification in Hearing Sciences (NBC-HIS), an independent, non-profit, credentialing organization, established to promote continuing competency assurance of hearing health professionals, and to provide a standard of excellence in hearing healthcare.

As one of Colorado's leading full-service hearing instrument provider, we consider you, the client, as the most important person in our company.
Important Steps For Improving Your Hearing Ability
Our Master Plan offers a set of comprehensive services and recommendations to help you regain your hearing — from initial discussion all the way up to, and including follow up:
Obtain a complete history of your hearing abilities.
Perform a battery of hearing tests and make measurements.
Give you a thorough explanation of your personal hearing profile.
Make recommendations, and if needed, make referrals for you.
Determine your lifestyle and listening needs; then match the appropriate level of hearing aid technology to meet those needs.
Precisely fit and verify this instrumentation personally for you.
Monitor your progress and guide you while you acclimate to better hearing.
Conduct a series of follow-up visits to encourage you, support you, and train you to hear better.
Do everything for you in a most caring, and friendly manner.